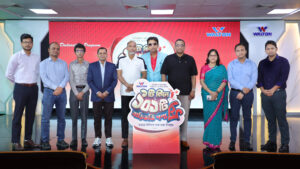 MOON Desk: Top electronics brand Walton has commenced its 'Digital Campaign Season-17' across the country. Under the new season, customers are offered 101 free products, up to Tk 1 lakh cash voucher on the purchase of Walton brand refrigerator, television, air conditioner and washing machine. These benefits are available from March 1 to April 30, 2023.
Walton Hi-Tech Industries PLC.'s Deputy Managing Director (DMD) Eva Rizwana Nilu inaugurated the 'Digital Campaign Season-17' at a declaration program held at Walton Corporate Office in the capital on Wednesday (March 1, 2023).
The program was attended by, among others, Walton Hi-Tech Industries' Additional Managing Director Maj. Gen. (Retd.) Ibne Fazal Shayekhuzzaman, DMDs Nazrul Islam Sarker and Amdadul Haque Sarker, Walton Plaza's CEO Mohammad Rayhan, Walton Hi-Tech's DMD Humayun Kabir, Senior Executive Directors Md. Tanvir Rahman, Amin Khan, Dr. Shakhawat Hossen, Sohel Rana, Firoj Alam, Ariful Ambia, Al Imran and Tofail Ahmed, Executive Director Md. Shahjada Salim and Didarul Alam Khan.
Walton is conducting the countrywide digital campaigns to provide faster and best after-sales service for customers through online automation. Season-17 is kicked off as the previous seasons of the campaign witnessed huge response from countrywide customers.
It was informed in the event that digital registration of the product is being done while buying Walton fridge, TV, washing machine and AC. After that, SMS regarding cash vouchers or gift is sent to customers' mobiles through a fully computerized system. Officials concerned at the showrooms or Plazas are handing over the cashback or free products.
Under the campaign, cash vouchers up to Tk 1 lakh, millions of guaranteed gifts including 101 free products are given. Walton Smart TV customers are assured of 1year free subscription of BongoWal. And, the AC buyers are offered maximum of 12 months electricity bill and get free cleaning services for two times.
Through digital campaign, detailed information including the name of the customer, cell phone number and model number of the purchased product being stored on Walton's server. As a result, customers get swift and best after sales service from Walton service centers across the country even if they lose the warranty card. Various benefits are being provided to ensure customers' spontaneous participation in the campaign.