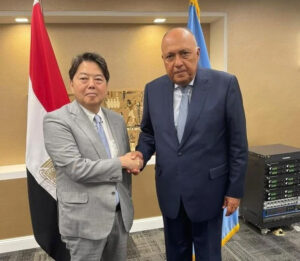 Moon Desk: HAYASHI Yoshimasa, minister of foreign affairs of Japan, and Sameh Shoukry, minister of foreign affairs of Egypt, held a foreign ministers meeting discussing efforts to tackle climate change, methods of controlling the international food crisis, and further enhancing the bilateral relations between both countries on Sept. 22.
The COP27, a conference discussing the current climate situation, will be taking place in Egypt and HAYASHI expressed his hope to collaborate with the government of Egypt to extend efforts to hinder climate change.
The Japanese minister argued that the root of the existing global food crisis stems from the Russian aggression against Ukraine.
Both ministers agreed that cooperation between Japan and Egypt is mandatory to stop the current international food crisis as well as sustaining and enhancing the nuclear non-proliferation treaty.
Minister Shoukry extended his condolences on the passing of the former prime minister and in return HAYASHI expressed his appreciation to the Egyptian president for sending a presidential envoy to attend the state funeral.
The two ministers shared a mutual agreement that both nations are vital partners for each other and encouraged further enhancement of the bilateral relationship.