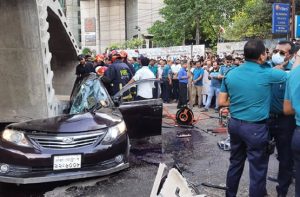 Moon Desk : Four people were killed and two others injured after a girder, part of the under construction Bus Rapid Transit (BRT) project, fell on a private car in the capital's Uttara.
The victims were members of a family.
The deceased were identified as Rubel, 50, Jharna, 28, Jannat, 6 and Jakaria, 2.
They were crushed under the girder that fell when it was being moved by a crane.
The incident took place in front of the Arong at Jasim Uddin area, Uttara Paschim Police Station's Officer-in-charge Mohammad Mohsin confirmed the matter to News.
Traffic Uttara Division's Additional Deputy Police Commissioner Md Badrul Hasan told Jago News that six passengers were in the private car. Four of them died on the spot and two others came out of the car after the incident. They were members of a family. The rescue work is on to recover the dead bodies.