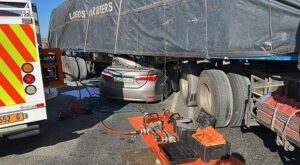 Diplomatic Correspondent: Five Bangladeshis were killed in a road accident in Beaufort West town of South Africa on Friday morning.
The accident took place in the city of Beaufort West, about 1000 km far from Pretoria, on the way to Cape Town.
The deceased were identified as Abul Hossain, 45, and his son Nadim Hossain, 10, residents of Char Mazlishpur village under Sonagazi upazila, Md Mostofa, 40, of Momarijpur village and Raju Ahmed, 34, of Dakshin Newazpur under Daganbhuiyan upazila and Ismail Hossain, 38, son of Shariat Ullah , of Birli village under Feni Sadar upazila in Feni district.
The critically injured are Anisul Haque Milon, 38, Nahid Ahmed, 35. Anisul hailed from Dhagonbhuiyan upazila of Feni district and Nahid from Gopalganj district.
Shariat Ullah, father of the deceased Ismail Hossain, said his son had been living in South Africa for 11 years. "My son was supposed to come back to the country after two months. We were taking preparation for his marriage," he said.
"I have lost my son but I would request authorities concerned to bring back the body of my son to me from South Africa," said the deceased's father.
Director General of Foreign Ministry (Africa wing) Tariqul Islam said a lorry crushed their private car when they were going to Cape Town city from Johannesburg riding on the car.