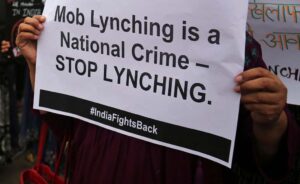 MOO Desk: The Nagaland police on Wednesday said that a 20-year-old Muslim man was lynched over the suspicion of theft in Dimapur district and claimed to have arrested six persons allegedly involved in the crime.
The perpetrators held the victim, Ikamul Hasan, hostage and subjected him to brutal beating, said the police. Distressing images published by the local media showed the victim bruised and injured with cut marks on several parts of the body.
The press release from the PRO on Tuesday stated that the police received information that Hasan was held captive by some persons at Chümoukedima Panchayat Hall following which cops rushed to the spot only to find "the victim in an unconscious state".
"The victim was immediately rushed to District Hospital Dimapur for medical treatment. However, the doctor declared him brought dead," said the police.
The Dimapur Police arrested six persons namely Mhasisetuo Thepa, Kenelelie Chalie, Lhousevilie Doze, Job Venuh, Kekhrieselie Liezetsu and Nirmal Saikia. A case has been registered under relevant sections of law and an investigation is on, it added.
Speaking to local media about the incident, Ahidur Rahman, President of Dimapur Muslim Council, said that he had visited the hospital after learning about the incident. He added that the victim was brutally thrashed by the goons over the suspicion of theft.
"Efforts are underway to gather information about his family, as the victim is not a resident of the state," said Rahman. He added that Hasan reportedly hailed from Bokajan, a town in Karbi Anglong district of Assam. He is the son of Kalak Hussain, informed Rahman.
"Before death, the victim managed to utter his name and place of origin. He is from Bokajan… We just got photos of the victim. We are now searching for his family members. As per the record of Dimapur, nobody could ascertain that he is a local resident. He might have come from outside," he said.
Rahman appealed to the youth to remain careful about getting involved in such activities. "We are extremely sorry about that. We felt bad. But what can we do," he said.
A local resident said: "The motive behind the brutal act is still unclear, as it hasn't been established whether Ikamul was actually a thief or an innocent. What's even more disturbing is that, instead of waiting for a thorough investigation, a group of local youths took matters into their hands and resorted to physical violence in their impromptu inquiry".