After cancellation of Articles 370 and 35A, things are normal in IIOJK: Modi Govt's false claim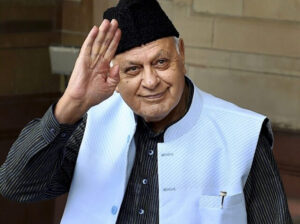 Md Nazrul: National Conference President Dr. Farooq Abdullah, who is considered a pro-India Kashmiri leader, said Questions have been raised on the Indian government's claims of normalization of the situation in the IIOJK.
He asked the Modi government whether the situation in India's illegally occupied Jammu and Kashmir has returned to normal with the abrogation of Article 370, 35-A. Speaking at the party convention in Jammu, Farooq Abdullah said, "Has it become (normal)?" The situation on the ground tells a different story to what was being claimed.
There are no signs of improvement in the situation in Jammu and Kashmir. Criticizing Modi government's crimes against humanity in IIOJK, he said that there are serious concerns among the public about the direct involvement of the Indian state in the target killing of innocent people in IIOJK, Which has brought back the horror of the 90s.
Today, Kashmir is facing an uncertain situation. The families of those killed in the target killing in Kashmir are demanding answers from the government, but from the powers that be Very little is explained by Mr. Farooq Abdullah criticized the baseless tall claims of the Indian government and the promises made by the IIOJK to the people of the United Nations at the time of ending the special status of the disputed territory, He asked the Indian government why unemployment has increased in Jammu and Kashmir. Did BJP give jobs for our youth? 000 jobs when he was drumming up the abrogation of Article 370, 35? Where are those jobs? Why are our educated, skilled and talented youth taking to the streets?" It is widely believed in the IIOJK that the endless search for jobs has affected the mental health of the youth.
Now that outsiders are eligible for jobs here, the employment prospects of our sons and daughters have further reduced. Even local sand and mining contracts are going to outsiders. The plight of local petty wholesalers and traders has also increased manifold. Many employees have been laid off from the workforce in power, tunneling projects at IIOJK. Local businesses in IIOJK are on the verge of closure, traders are facing hardship. All the promises of BJP have been broken, the people of IIOJK are facing numerous challenges in their daily life.