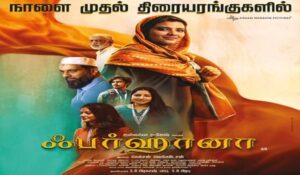 MOON Desk: Close on the heels of the release of "The Kerala Story" another movie titled "Farhana" has created controversy in the Indian state of Tamil Nadu. The film which is centered on a Muslim woman has drawn the wrath of several Muslim organisations across the state.
The Indian National League (INL) has termed the film "anti-Islamic" and alleged that it portrayed the Muslim community negatively. INL leader Tada J. Abdul Rahim has filed a complaint against the film with the Chennai Police Commissioner urging him to ban it.
"The teaser of the movie depicts a Muslim woman who indulges in sexual activities around the globe wearing a burqa. It is an insult to Islamic culture by the virulent Hindutva politics,' the INL leader said in his complaint.
Sensing widespread protests, Police Commissioner Shankar Jiwal has deployed a large posse of security forces around the residence of actress Aishwarya Rajesh who has essayed the role of "Farhana" in the movie.
Muslim Munnetra Kazhagam leader M.H. Jawahirullah said the film is not only an insult to Muslim women but to the country's entire womenfolk.
The storyline of the movie is Farhana is a young married Muslim woman who defies her conservative father and starts working at a call center to supplement her family income. She is moved to a new department in her office with better incentives. Till then she did not realise that her new job was to have sex chat with customers on the phone. It came as a rude shock to her. She takes up the assignment much against her will due to her economic constraints. On the job, she enters into an unlikely friendship with one of her callers and gradually develops a connection with him who seeks companionship and conversation with her. The caller turns out to be an obsessive predator.
That's why the movie is caught up in controversy. The main objection is because of a very particular plot point as the film brings in a Muslim woman to do the sex talk.
Why the scriptwriter has brought this angle to his story? Isn't it the brainchild of a psychologically constipated person who finds evil in everything that is Muslim? The same story could have been zeroed on Iyer or Iyengar women but why a Muslim protagonist is chosen for this job?
The film is produced by Dream Warrior Pictures. It is directed by Nelson Venkatesan. It stars Aishwarya Rajesh and Anumol among others. The movie is set in Triplicane, a Muslim-dominated locality in Chennai, which is the earliest Muslim settlement in Madras.