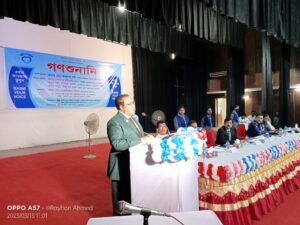 Rayhan Ahmed, Mymensingh: ACC public hearing was held at Mymensingh Town Hall Advocate Tarek Auditorium with the slogan "Stop corruption and build the country, Hobe Sonar Bangladesh". Mr. Mohammad Zahurul Haque, Honorable Commissioner (Investigation), ACC was present as the chief guest on the occasion.
Mr. Devdas Bhattacharya BPM, DIG Mymensingh Range were present as special guests; Mr. Mohammad Akhtar Hossain, Director General (Prevention), ACC; Mr. Masum Ahmed Bhuiyan, PPM Superintendent of Police Mymensingh.
Deputy Commissioner Mymensingh Mostafizur Rahman presided. ACC District Office Mymensingh and Integrated District Office Mymensingh officials, all government department officials and employees, general public, journalists were present.
ACC Commissioner said in his speech, corrupt people cannot speak strong language. They are suffering from mental disorders. They are enemies of society. Corrupt people should be disrespected instead of respected. He also said that against the corrupt, we should say "You are corrupt, you are corrupt".