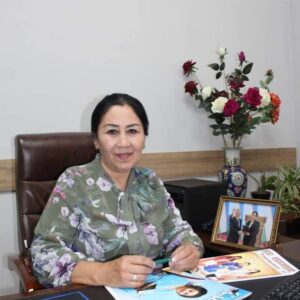 Munavvara USMONOVA: Those were the times when we had just moved to Tashkent and were looking for a job.  I lived with the thought that I felt sorry for my husband, who was barely making ends meet with a meager salary, and that what I could do would help.  I was especially bothered by the fact that the problem of rent was encountering at the beginning of the month.  One day we went to the market in order to buy some food.  I carried my daughter with myself.  When my daughter saw the apples on the stall while buying onions, she said, "I'm going to eat apples."  The money in my hand is for bread and onions… And the woman selling apples kept calling her: "Come, my daughter, very sweet apples, red apples, take some apples that are as sweet as you."  I didn't know what to do when I looked at my daughter who was sitting there crying and at the apples on a stall.  I had to buy apples instead of bread.  As I was returning home, I thought about what the children would eat during the day, if there was flour at home, I would immediately make dough and put it in the gas oven.  On the contrary, his father went to Andijan with his necessary work.  We woke up in the morning.  A couple of days later, we went to the store to fill another demand. My daughter was staring at me.  Holding her in my arms, I slowly began to explain:
My daughter, if you understand me, I will tell you something.  I don't want to leave you alone at home and go out.  I wondered if you would torture me like you did the other day if I took the lead.  That day, instead of bread, we bought apples, and then it was difficult for me to find bread for you.  Now we are going out to buy potatoes, where will I get the money if you cry again, "Don't buy apples," I said.  My five-year-old girl, looking into my eyes, said: "Mummy, when I grow up, I will give you a lot of money, full of apples and chocolates.  I won't cry now, I promise," she said.  My daughter, who was passing in front of the stalls, covered her eyes with her hands.  She did not cry that day as she promised.  She didn't see, she didn't even look at her favorite fruits.  But, I cried all night for some reason.
Munavvara USMONOVis the honored cultural worker of the Republic of Uzbekistan, editor-in-chief of the Uzbek women's magazine "Saodat".
Translated by: Jakhongir NOMOZOV