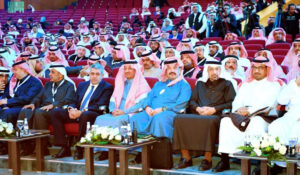 AN, ABHA: Asir Gov. Prince Turki bin Talal bin Abdulaziz, who also heads the region's development authority, sponsored the launch of the Aseer Investment Forum at King Khalid University in Al-Qaraa on Saturday.
The ceremony saw the participation of Investment Minister Khalid Al-Falih and Tourism Minister Ahmed Al-Khateeb, along with  Secretary-General of the World Tourism Organization Zurab Pololikashvili.
In his opening speech, Prince Turki said: "The Asir region is of great interest to the wise leadership and benefits from its continuous support to promote all of the developmental projects and underline its strong points and uniqueness in all its fields. The forum was held after the region's infrastructural development was completed and the economic studies, which will provide accurate information regarding the investment opportunities, were conducted.
"The forum seeks to achieve the national strategic investment goals by attracting investments to the promising sectors, namely tourism, agriculture and sports. These sectors would, in their turn, contribute to the achievement of the objectives of Asir's development strategy, stimulate local and foreign direct investments and turn the region into a global tourist destination all year round, while also expanding the investment radius to cover all of the region's provinces, characterized by the diversity of their environments," he added.
Al-Khateeb stressed the leadership's keenness to develop the Kingdom's tourism sector, utilize the attraction elements and benefit from available opportunities by raising the sector's contribution to the Kingdom's gross domestic product from 3 to 10 percent. "The launch of Asir's strategy has helped the ministry implement several of its initiatives and projects, which are aimed at developing the tourism sector as well as locally and internationally promoting the region's tourism sector," he said.
"The Kingdom has allocated SR450 million ($119.7 million) to train 100,000 young Saudi men and women with the aim of providing tourism facilities with trained employees. More than 70,000 young men and women have received the necessary training, including 7,000 who were sent abroad to be trained according to international standards," he added.
Al-Falih said that "the ministry is working to support economic projects in Asir and encourage businessmen to establish services and tourism projects in order to develop the region and stimulate investments through the privatization and partnership system in place between the private and public sectors.
"The ministry is also keen to receive suggestions, listen to the investors and work on resolving all the difficulties they might face," he added, lauding Asir's strategy for "what it has achieved in terms of establishing an investor-attracting environment, inviting the investors and providing them with all the information and data that would help them set the region's investment compass."
Pololikashvili commended the Kingdom for "the qualitative leaps it has achieved when it comes to tourism, developing tourist destinations and facilitating the required procedures to visit the country," recognizing how rich Saudi Arabia's various regions are "in terms of natural elements and environmental diversity, which support its aim of becoming a global tourist destination."