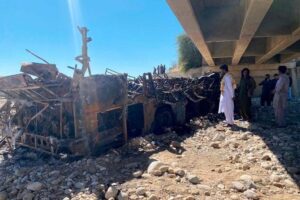 MOON Desk: At least 50 people were killed in two separate transport tragedies in Pakistan on Sunday, officials said, renewing a debate about poor transport safety protocols in the South Asian country.
In the first incident, a passenger bus fell into a ravine and later caught fire in the Bela area of Pakistan's southwestern Balochistan province, where road accidents claim thousands of lives annually.
Balochistan, a mountainous, desert region bordering Afghanistan and Iran, is Pakistan's largest but most impoverished province, with a staggering 40,000-km network of road infrastructure.
According to the motorway police, 6,000 to 8,000 people die each year in accidents across the Balochistan province, mainly on single-lane roads that have infamously come to be known as "killer highways."
"A bus going from Quetta to Karachi plunged into a ravine and caught fire at around 3 a.m.," Hamza Anjum Nadeem, the Bela assistant commissioner, told Arab News. "At least 39 bodies have been recovered and a search for others is underway."
Anjum later confirmed the death of another passenger, taking the count to 40. Of these, 38 dead bodies were being moved to the southern port city of Karachi, 177 km away from Bela, for medico-legal formalities, Karachi Police Surgeon Dr. Summaiya Syed told Arab News.
Balochistan is the epicenter of the $64 billion China-Pakistan Economic Corridor, a road and infrastructure development plan, which aims to ultimately provide the shortest route for Chinese cargo headed for the Middle East, Africa and Central Asia.
Major roads are slated for construction under the CPEC, including the road from Balochistan's Khuzdar district to the Chinese-funded, deep-water port of Gwadar. But for now, the absence of dual carriageways, inadequate training of drivers, and a lack of highway patrols mean thousands continue to die on these roads each year.
In another incident, 10 children died when their boat capsized in Tanda Dam lake near Kohat in the country's northwest, according to police.
All of the dead recovered so far were aged between 7 and 14 years, local police official Mir Rauf told the AFP news agency. Rauf said 11 children had been rescued from the water, with six in critical condition. The boat was carrying between 25 and 30 students on a day trip from a local madrassa when it overturned.
"A rescue operation is underway," Rauf said. Mass drownings are common in Pakistan when aged and overloaded vessels lose their stability and pitch passengers into the water. In July, 18 women drowned when an overcrowded boat carrying a wedding party across the Indus river in Punjab province capsized.
The South Asian country also has poor road safety controls, and thousands of lives are lost to road crashes each year, particularly in the southwestern Balochistan province.
According to the National Road Safety Strategy 2018-2030, a report administered by the Asian Development Bank that cited police data, 6,548 people died at the scene of an accident on Pakistan's roads in 2016. Of these, 355 fatalities happened on national highways and 6,003 on provincial roads.
At least seven people were killed and 15 others were injured after a passenger bus collided with a truck in Balochistan's Killa Saifullah district this month. In June last year, 22 people were killed when a passenger bus veered off a narrow road and fell into a ravine in the same district.