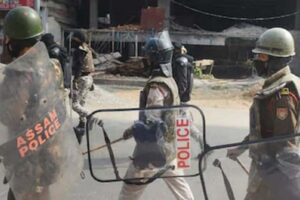 Muhammad Ullah: Six people, including a forest official, were killed in an inter-state border clash in northeastern India on Tuesday, officials said.
The Assam state police claimed that people from the neighbouring Meghalaya state attacked the police and forest officials in order to free timber smugglers and their driver, who were apprehended by forest guards before down.
Senior police official Imdad Ali told local news agency Press Trust of India that the people were demanding the immediate release of those arrested and attacked, "which prompted the police to resort to firing to bring the situation under control."
Five people were killed in the shooting, and a forest guard was also killed in the clash with the locals from the neighbouring state.
Earlier, the Assam Forest Guards on a tip-off intercepted and apprehended three people, including a truck driver, who was forced to stop the vehicle after bullet fire flattened its tyre as they were transporting illegal timber towards West Jaintia Hills in Meghalaya state, the official said, adding that some managed to flee.
Conrad Sangma, the chief minister of the northeastern Meghalaya state, said the unfortunate incident occurred at Mukroh village in the district West Jaintia Hills, where six people were killed as a result of firing by Assam Police and Assam Forest Guards."Out of the six, five were Meghalaya residents and one is from the Assam Forest Guard," he said in a statement on Twitter.
"Government of Meghalaya will take all steps to ensure that justice is served and action is taken against those responsible for this inhuman act," he added.
Fearing law and order problems, Meghalaya state authorities have suspended internet access in some areas.
The border dispute between Assam and Meghalaya has in the past led to clashes between civil contractors, electricity companies, and telephone line operators. The dispute began when Meghalaya was carved out from Assam's Khasi Hill district in 1972.
In March this year, the chief ministers of Assam and Meghalaya signed an agreement in the presence of Indian Home Minister Amit Shah in the national capital New Delhi to end the "50-year-old border dispute" between the two states.
Not only do Assam and Meghalaya have an inter-state dispute, but in 2021, tensions between two northeastern states – Assam and Mizoram – erupted, claiming the lives of six Assam police officers.