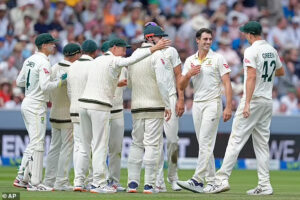 Sports Desk: Ben Stokes played one of the great Ashes innings even by his standards but fell agonisingly short of winning the second Test for England on a day of huge controversy at Lord's.
Stokes made 155, including nine sixes, an Ashes record, with a breath-taking display of hitting but England fell 44 short of their victory target of 371 in front of one of the most highly charged and febrile crowds ever seen at Lord's.
The final day had been ignited by the most disputed of decisions when Jonny Bairstow was 'stumped' by wicketkeeper Alex Carey after leaving his crease thinking the ball was dead with England making a decent fist of chasing their formidable target.
Bairstow had ducked under a bouncer from Cameron Green at the end of the 52nd over and saw the ball go through to Carey, who had earlier produced another excellent catch to send back Ben Duckett for 83 after England had made a productive fifth day start.
The Australian keeper rolled the ball towards the stumps and hit them after Bairstow had scratched his ground and left his crease thinking the over was done. He was clearly out of his ground but the bottom line was that all indications were the umpires had started to move into position for the next over.