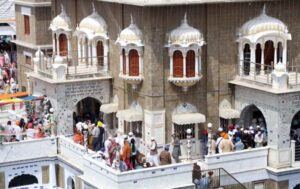 MOON Desk: More than 2,800 Sikh pilgrims from India reached Lahore via Wagah border to attend the annual Baisakhi festival.  According to details, Sikh pilgrims from India participated in the main event at Gurdwara Panja Sahib Hasan Abdal on April 14, 2023.During the visit, pilgrims visited Dera Sahib, Panja Sahib, Nankana Sahib and Kartarpur Sahib.
The Baisakhi is the most important "Sikh Religious and cultural Gathering" marking the birth of the Sikh faith and every year Pakistan observes participation from all over the world at the shrines of Panja Sahib and Nankana Sahib. In last three years, cultural and religious tourism in Pakistan has shown an upward trend and has witnessed a significant increase in number of tourists from India, Japan, China, Sri Lanka, Hong Kong and even Myanmar.
Various holy sites of Hindu and Sikh for the worshippers have been renovated by the government of Pakistan (GoP) in good faith which prominently include Kartarpur and 126-year-old Shiva Temple in Sindh province. Similarly, the visa facilitation for Sikhs to attend Baisakhi celebrations is reflective of Pakistan's pride in its diverse cultures and their significance in promoting regional peace and connectivity.
Pakistan began preparations for 'Baisakhi Festival' after holding a coordination meeting with all the representatives of relevant departments at ETPB office Lahore. In Hinduism, Baisakhi or Vaisakhi is celebrated as both cultural and religious festivals. In some parts of India like Assam, Bengal, Bihar, Himachal Pradesh, Odisha, Punjab, Uttar Pradesh, Tamil Nadu etc. Vaisakhi marks traditional solar New Year.