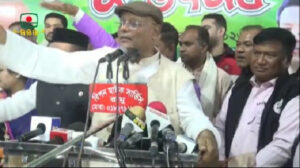 Moon Desk: Information and Broadcasting Minister and Awami League (AL) Joint General Secretary Dr Hasan Mahmud has said it is Father of the Nation Bangabandhu Sheikh Mujibur Rahman who has brought independence for the Bangalee nation in the history of five thousand years.
"For this, Bangabandhu is the greatest Bangalee of all time and has been immortal in the hearts of crores of Bangalee," he said, speaking on the sixth day of the week-long 'Bangabandhu Uthsab (festival) 2023' at the Stadium of Ramu upazila of the district Friday night.
Hasan said a vast change has taken place in all sectors across the country and it is really hard to recognize the Cox's Bazar from the sky for unpredictable development. "And this is the development of Bangabandhu's daughter Prime Minister Sheikh Hasina," he added.
He said the train service from Dhaka to Cox's Bazar will begin this year and Prime Minister Sheikh Hasina has materialized the dreams of an international airport in Cox's Bazar, BKSP, a cantonment and other establishments.
Seeking vote for Awami League in the next election, the minister said BNP is "winter bird" and they are seen during the polls only. They were not found during the COVID-19 pandemic or any other calamities, he added.
Hasan said Awami League was beside the countrymen during the pandemic crisis. Only the present government has carried out such development across the country, he added.
Lawmaker and member of Parliamentary Standing Committee on Information and Broadcasting Ministry Saimum Sarwar Kamal, Public Prosecutor of the district Advocate Faridul Alam and Chhatra League district unit general secretary Maruf Adnan, among others, addressed the function with Cox's Bazar Puja Udjapan Parishad general secretary Babul Sharma in the chair.