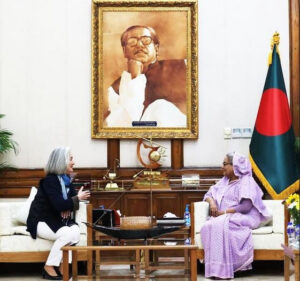 Diplomatic Correspondent: Prime Minister Sheikh Hasina on Monday expressed satisfaction over the growing relationship between Bangladesh and France, saying it has extended further towards the objective of a strategic partnership.
"France is always a trusted partner of Bangladesh. The relation has extended further towards the objective of a strategic partnership guided by our common goals of the sustainable development," she said.
The premier made the remarks when newly appointed Ambassador of France to Bangladesh Marie Masdupuy paid a courtesy call on her at her official Ganabhaban residence here.
PM's Press Secretary Ihsanul Karim briefed the newsmen after the meeting.
According to Karim, the premier expressed satisfaction over the growing relationship between the two countries with cooperation in various fields for the last five decades following the pathway set up by Father of the Nation Bangabandhu Sheikh Mujibur Rahman.
During the meeting, the French envoy has expressed his country's keenness to enhance cooperation with Bangladesh particularly in the areas of aviation and aerospace.
She said they also have eagerness to work with Bangladesh in maritime security.
Marie Masdupuy also expressed her country's interest to construct Bangladesh's second satellite.
During the meeting the climate change issue was prominently discussed.
About the climate change, the French ambassador said her country has been working on this issue and they can share their experience with Bangladesh.
About the Rohingya crisis, the prime minister said the forcibly displaced Myanmar nationals sheltered in Cox's Bazar will have to return to their homeland as they have become a burden for Bangladesh.
"They're turning into burden for us," she said.
Referring to construction of an international standard airport in Cox's Bazar, Sheikh Hasina said her government is transforming the airport into an international hub for refueling and linking between Asia and Europe.
The prime minister recalled her visit to France in November, 2021 and her fruitful talks with the French president.
She also thanked the French president for inviting her to attend the Climate Summit to be held in Paris on June 22-23 next.
PM's Principal Secretary M Tofazzel Hossain Miah was present at the meeting.