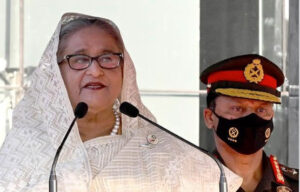 Moon Desk : Prime Minister Sheikh Hasina on Monday said the country's economy keeps rolling although the world has been going through a global crisis and economic recession, hoping that Bangladesh must move ahead confronting the global crisis with cooperation of all.
"Amidst global economic recession, our economy is still moving and pulsating. But, with cooperation of all, we will overcome the situation," she said while speaking at a reception ceremony marking the Armed Forces Day-2022 at the Senakunja in Dhaka Cantonment.
The Prime Minister said although the world recognised Bangladesh as a role model of development, the country has fallen to some troubles due to the Coronavirus, Russia-Ukraine war, sanctions and counter sanctions.
She reiterated her call to all in bringing every inch of land under cultivation to grow own food aimed at overcoming the global crisis.
The Prime Minister said the entire world from the United States, Europe and Great Britain is going through an economic meltdown and Britain has already announced that it is facing an economic recession.
"Pray to Allah as we can protect Bangladesh from the economic recession and looming famine," she said.
As the world is reeling from the Coronavirus, she said the earth has been rattled by the Russia-Ukraine war for which the prices of various commodities that included fuel, edible oil, wheat, maize have increased manifolds alongside the transportation costs.
The Prime Minister said despite the fact her government has been trying its best to keep people out of the sufferings.
"We're trying as the people of our country cannot suffer from the global crisis. So, we're purchasing the goods from anywhere in the world by paying how much their prices are," she said.
On her arrival at the Senakunja, the Premier was received by Chief of Army Staff General S M Shafiuddin Ahmed, Chief of Naval Staff Admiral M Shaheen Iqbal and Chief of Air Staff Air Chief Marshal Shaikh Abdul Hannan.
PM`s Security Affairs Adviser Major General (rtd) Tarique Ahmed Siddique was present on the dais.