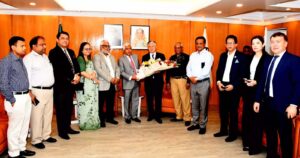 Business Desk: Federation of Bangladesh Chambers of Commerce and Industry (FBCCI) President Md. Jashim Uddin on Thursday said that both Bangladesh and Uzbekistan can offer much to each other in terms of economic collaboration.
"Both the countries can be benefited by exploring their potential sectors," he told a discussion meeting with the Uzbekistan delegation.
Deputy Minister of Foreign Affairs of the Republic of Uzbekistan Bakhrom Aloev led the delegation held at the FBCCI Icon in the capital today, said a press release.
Terming Uzbekistan as an important friend and growth partner, the FBCCI president said both the countries have gained momentum with some high-level visits and discussions on the future of the two country's partnership.
"Trade and economic cooperation have been the key focuses of Dhaka-Tashkent relations. Both the countries have identified potential sectors for collaboration, including textiles, pharmaceuticals, agriculture, and information technology," he added.
Jashim mentioned that the bilateral trade reached $35.12 million in FY2022 which is far below the untapped potential. "I hope through this visit and meeting, we can work together to explore mutually beneficial investment and trade opportunities,"
He said that Bangladesh serves as the regional gateway of South Asia and ASEAN countries and has very close connectivity with India and China, the two giants of Asia.
"The government is developing some 100 economic zones, 30 IT parks, and tourism parks with modern infrastructure. Uzbekistan can utilize this opportunity to start a business here in Bangladesh," he mentioned.
The FBCCI President said that Bangladesh have competitive strengths in apparel, leather goods, pharmaceuticals, frozen seafood, plastic products, ceramics, jute, and leather products, ICT, FMCG, home appliances and others are leading the way for business diversification.
"Uzbek can import pharmaceutical products and generic drugs from Bangladesh as we are producing high-quality medicines and drugs and exporting them to more than 100 countries in the world," he added.
Uzbek Deputy Minister Bakhrom Aloev said, "Bangladesh and Uzbekistan have many opportunities. It's time to elaborate the relation between the two great countries. Right now, connectivity is one of the issues, but we're working on it and we're looking forward in strengthening the bilateral trade between the two countries".
He also invited the FBCCI to pay a visit to Uzbekistan and explore the business potential.
FBCCI vice president Md. Amin Helaly said that the interactions with the private sector have helped Bangladesh and Uzbekistan to develop a future trade relationship by encouraging mutual investment and addressing trade barriers for the greater benefit of the two nations.
FBCCI vice president Md. Habib Ullah Dawn, directors, and other business leaders were present at the program.