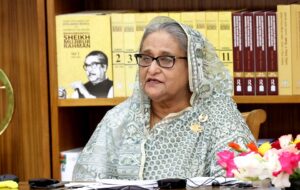 Moon Desk: Prime Minister Sheikh Hasina on Thursday dismissed the talks that there is no money in the country`s banks.
"Some people talk about reserve but there is no issue regarding it. Some say there is no money in the banks which is a lie. Even yesterday I had a meeting with the Bangladesh Bank governor and other concerned. It was confirmed that we have enough money in banks," Hasina said.
Hasina, who is the president of ruling Awami League, was addressing a huge rally organised by the party at Jashore Stadium.
She said due to Covid-19 there is an economic crisis everywhere across the globe but in Bangladesh "we have kept our economy standing on a strong base till now."
"We have remittance inflow, foreign investment coming, export income has increased, and our tax collection has also increased. When all countries are struggling to avoid a recession Bangladesh has still remained strong economically," she added.
She also said after 1975 no development work has been done in this country.
She said when military ruler Ziaur Rahman died he left nothing but a broken suitcase and torn clothes and the BNP only looted the country when they were in power.
A boat-shaped stage was prepared at the rally venue by leaders and activists of Awami League, exhilarated by the prime minister's presence as the chief guest.
Thousands of people joined the rally that started at 3 pm.