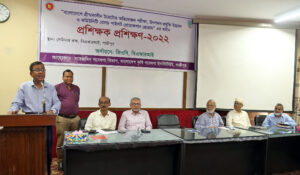 Moon Desk: The On-Farm Research Division (OFRD), Gazipur of Bangladesh Agricultural Research Institute (BARI) organized a trainers training titled "BARI Invented Hybrid Summer Tomato Production Management" at the seminar room of the Institute today (Monday, 26 September  2022). A total of 30 scientists from different stations of OFRD, BARI were participating in the day long training program which is funded by 'Adaptive trial, production and community based pilot production program of summer tomato in Bangladesh' project.
BARI Director General Dr. Debasish Sarker inaugurated the training workshop as chief guest. Chief Scientific Officer & Head of OFRD, Gazipur Dr. Md. Mazharul Anwar presided over the function while President of BSAFE Foundation Dr. Md. Zainul Abedin, BARI Director (Support & Services) Dr. Md. Kamrul Hasan, Director (Research) Dr. Md. Tariqul Islam, Director (Planning and Evaluation) Dr. Apurba Kanti Chowdhury and Director (Horticulture Research Centre) Dr. Gobinda Chandra Biswas were present as special guests. Senior Scientific Officer of OFRD, Gazipur and Director of the Program Dr. Md. Faruque Hossain gave the welcome address while Scientific Officer of the division Mr. Sheikh Ishtiaque conducted the function.
In his speech, Director General of BARI Dr. Debasish Sarker said, that currently 15 thousand metric tons of summer tomatoes are being produced in the country. Besides, about 20 thousand metric tons of tomatoes have to be imported from abroad. However, if the production of summer tomatoes in the country is increased, the farmers will benefit and at the same time we will not need to import tomatoes. At present, summer tomatoes are being cultivated in a large amount of land in the south-western part of the country. This year we have supplied our own hybrid tomato seeds to the farmers on behalf of BARI and we want to provide quality seeds to the farmers in the future as well. We hope to reduce import dependency by increasing production of summer tomatoes in the country and move towards export of tomatoes.