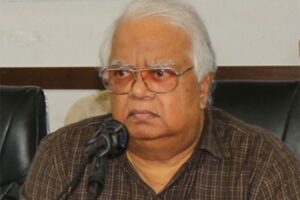 Staff Correspondent: Former communications minister and BNP's former influential leader Barrister Nazul Huda died at about 10:00pm on Sunday at Square Hospital in Dhaka, his wife Sigma Huda said. He was 80.
Nazmul Huda, born on January 6, 1943, served as the information minister between 1991 and 1996 and the communications minister between 2001 and 2006.
He was elected lawmaker four times representing the Dhaka-1 constituency.
He was a member of Bangladesh Nationalist Party from its inception until 2012 when he left the BNP as its vice chairman.
Nazmul Huda started his political career with Jago Dal, a party founded by late president Ziaur Rahman in 1977. He became the founding member of the BNP.
After leaving the BNP in June 2012, he formed his own party Bangladesh Nationalist Front.
He was ousted by one of the party senior leaders after a few months and then he formed Bangladesh National Alliance (BNA) in May 2014 and Bangladesh Manobadhikar Party (BMP) in November at the same year.
In November 2015, Nazmul Huda floated his new political party, named 'Trinamool BNP.'
Last week, the Election Commission (EC) gave approval to his party 'Trionamool BNP.'