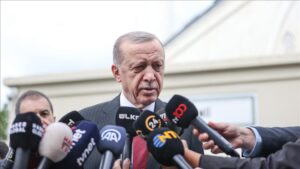 MT Desk: Asked about an alleged heated exchange with the Greek premier during an official dinner at a Prague summit, Turkish President Recep Tayyip Erdogan said Kyriakos Mitsotakis lacks knowledge of proper diplomatic protocol.
"Do you think the president of the Republic of Türkiye would lower himself to such a level?" Erdogan told reporters after prayers in Istanbul on Friday, the day after the dinner, which came at the end of the leaders' dinner at the European Political Community in the Czech Republic.
"He (Mitsotakis) is a man who doesn't know the rules of protocol. Although he wasn't supposed to deliver a speech at the program, I don't know who he got permission from, he tried to respond to me," Erdogan added.
The incident comes amid persistent tensions between Greece and Türkiye over such issues as maritime boundaries and Athens arming Aegean islands in violation of longstanding treaties.
In May, after Mitsotakis complained about Türkiye to the US Congress, Erdogan said the premier had broken his word to work for solutions as the bilateral level, and cut off communication with him.
Turning to his latest phone call with Russian President Vladimir Putin, Erdogan said: "He thanked us for our mediation in particular and said, 'I congratulate (Türkiye) on this successful mediation'."
Saying that a detailed meeting with Putin in the next three or four days would be beneficial, Erdogan said "there could be a meeting at the upcoming Asia Platform," referring to the sixth Conference on Interaction and Confidence Building Measures in Asia (CICA) Summit on Oct. 12-13 in Astana, Kazakhstan.
During the call, he also congratulated Putin on his 70th birthday.
Asked about the talks to get upgraded F-16s from the US, Erdogan said: "If the US doesn't meet our needs on the F-16s, there are plenty of other countries in the world that will give us what we need."
Ankara requested the F-16s and modernization kits last October. The $6 billion deal would include the sale of 40 F-16 jets and modernization kits for 79 warplanes that the Turkish Air Force has in its inventory.
In July, however, the US House of Representatives approved legislation creating a new hurdle to the sale.
It prohibits the sale unless President Joe Biden certifies that the transfer is in US national interests and guarantees to Congress that in the 120 days prior to the transfer, the Turkish government has not "violated the sovereignty of Greece, including through territorial overflights."
Türkiye, for its part, has made it clear that Greece-related conditions are not "binding" and expressed hope that the US would not fall for such "games."