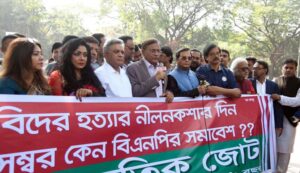 Staff Correspondent: Information and Broadcasting Minister Dr Hasan Mahmud on Thursday said BNP wants to hold their rally on December 10, the day on which the blueprint was made to kill the intellectuals, the best sons of the nation, in 1971. "Does BNP want to express solidarity with the killers of intellectuals by holding a rally on December 10, the day of the blueprint was made for killing the intellectuals? The mission of killing the intellectuals started on December 10 in 1971 in the country," he said.
The minister added that the Pakistani occupation forces had picked journalists Siraj Uddin Hossain and some other intellectuals on December 10 and later they were killed. "That means the intellectuals killing mission had begun on that day. Now it is a big question why BNP chooses the December 10 to hold their rally," he added.
Hasan said these while addressing a human chain organised by Bangabandhu Sangskritik Jote (BSJ) in front of the Central Shaheed Minar in the capital.
He said the answer of the question is very easy. In fact, the reason of choosing the December 10 for holding their rally is that many of them who were involved in the killing of intellectuals are now BNP leaders. And Jamaat-e-Islami, which was leading the killing mission, is their (BNP) main ally, he added.
He said a few days ago BNP secretary general had said, 'Pakistan regime was better'. The party, whose secretary general said this, has no right to do politics in the country, he added.
He said they are killers and now they choose the December 10 to express solidarity with the killers of intellectuals.
The minister said Father of the Nation Bangabandhu Sheikh Mujibur Rahman had made the call for the independence in Suhrawardy Udyan while Pakistani occupation forces surrendered in the Udyan. But, BNP is showing their reluctance to hold their rally in the Udyan as the party is ally of Pakistan, said Hasan, also Awami League joint general secretary.
BNP's founder Ziaur Rahman had built Shishu Park to erase the mark where Pakistani forces surrendered. For this, BNP doesn't want to go there, he added.
On the other hand, he said, the government has allocated the Suhrawardy Udyan to hold their rally smoothly and can gather much people. Even, the conference of Chhatra League has been rescheduled and it will be held on December 6 instead of December 8, said Hasan.
He said BNP held their rallies on grounds across the country. But now, they are not feeling comfortable to hold rally on this ground, he added.
In fact, he said, BNP wants to hold rally on streets as it is easy to vandalize vehicles and carry out arson attacks.
But, Awami League leaders, activists, intellectuals, teachers, doctors and cultural personalities would not allow them (BNP) to carry out any type of violence, he said, adding license would not be given to them to carry out arson attacks in the capital.
He said the leaders and activists of AL have been requested to show their patience. But BNP leaders' provocative statements are breaking their patience, he added.
The minister said the AL leaders and activists have been requested to maintain vigilance so that none could carry out anarchies. For this, they will be alert in every ward and resist trouble makers along with police and people if needed, he added.
He said the government is providing all out cooperation so they (BNP) can hold their rally peacefully. For this, they held their rallies without any hassle, he added.
On the other hand, he said, they (BNP) had carried out grenade and bombs attacks on Awami League's rally when they were in power. They killed many people, he added.
But, he said, a single cocktail did not blast in their (BNP) rally and it has only been possible as the government has ensured full-proof security.
He said the government is compelled to take tough actions if they want to create any chaos in the name of rally.
Hasan urged the countrymen to remain alert to resist all the evil forces.
Dhaka University (DU) pro vice chancellor Professor Dr ASM Maksud Kamal, DU Teachers Association general secretary Professor Dr Mohammad Nizamul Haque Bhuiyan, martyred intellectual's daughters Dr Nuzhat Chowdhury and Shomi Kaiser, AL Dhaka city South unit former general secretary Shahe Alam Murad and Krishak League senior vice president Sheikh Jahangir Alam, among others, took part the human chain with BSJ president and Swadhin Bangla Betar Kendra artist Rafiqul Alam in the chair.
Artistes Monoranjan Ghoshal and Professor Dr Arup Ratan Chowdhury, actress Rozina, Aruna Biswas, Tanvin Sweety and Parul Akter, BSJ leaders Muhammad Mizanur Rahman, Ashrafuzzaman Mitu, actors Raj Sarker, singer Daizy and Muna Chowdhury, among others, were present in the programme while BSJ general secretary Arun Sarker Rana conducted it.