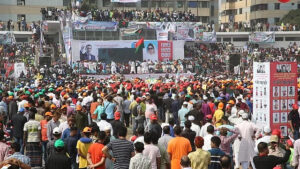 Hold countrywide demonstrations on Dec 13, 24
Staff Correspondent: Bangladesh Nationalist Party (BNP) has placed a ten-point demand at the divisional mass rally at Golapbagh in the capital. The demands were placed at the end of the rally on Saturday. The demands are:
The current unelected and illegal government has to resign, abolishing the parliament.
A neutral non-party caretaker government has to be constituted in keeping with Section 58 Kha, Ga and Gha added to the constitution in 1996.
The caretaker government has to repeal the current illegal election commission and form a new commission which is acceptable to all parties. The new commission would amend the RPO, cancel EVM system and reintroduce voting through traditional ballot system as prerequisite to holding a transparent election.
All charges against opposition leaders including Khaleda Zia, human rights activists, journalists and Alems have to be quashed, cases against them be withdrawn and the political prisoners have to be freed immediately.
Digital Security Act-2018, Anti-Terrorism Act-2009, Special Power Act-1974 and all other draconian laws must be repealed.
The anti-people decision to increase the prices of power, energy, gas, fertilizer, water and every other public service has to be withdrawn. The prices of essential commodities must be brought within people's purchase power.
The commodities market has to be freed from existing corrupt syndicates. Fair wages for working class people in line with inflation have to be ensured, child labour must be stopped and fair prices for agricultural products have to be set.
A commission has to be set to identify incidents of money laundering, corruption in banking and financial sectors, power-energy, stock market and all other sectors in state mechanism.
All victims of enforced disappearances must be rescued and punishment against perpetrators of incidents of extrajudicial killings has to be meted out. Legal action must be taken against those involved with persecution against religious minorities, attack on their worship places and usurpation of their properties.
Law enforcement agencies, administration and judiciary must be freed from government interference so that they can hold their duties with administrational discipline an professionalism.
Although the mass rally of BNP was scheduled to be started at 11:00am today, BNP men thronged the Golapbagh ground as soon the venue was fixed on Friday afternoon after series of uncertainties. The ground almost filled up within the night. Seven BNP lawmakers declared their resignation from the parliament in today's mass rally.