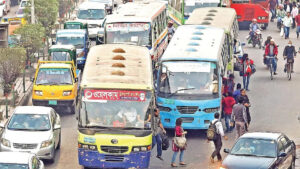 MOON Desk: Dhaka Road Transport Owners' Association has announced that bus service will be available on 10 December, amidst the rising tension circling BNP's divisional rally in Dhaka on that day.
The association made the announcement in a press release on Thursday.
Before this, the BNP held nine divisional rallies outside Dhaka. During those programmes the bus owners called off the bus services in respective divisions, except Cumilla and Chattogram.
Now, BNP's 10-December rally has already raised tension in the political sphere. BNP leaders and activists locked horns into a clash with the police in front of the BNP central office in Naya Paltan on Wednesday. One person was killed and several others injured in the clash.
The police and the BNP are yet to reach a consensus over the issue. The government wants the BNP to hold their rally at the Suhrawardy Udyan and they seem to be quite strict on this decision. BNP, however, is still adamant about holding the rally at Naya Paltan.
In this situation, there was doubt whether public transport would be available at all on that day.
The decision to operate bus services in Dhaka on 10 December was taken in a meeting of the Dhaka Road Transport Owners' Association on Thursday. They said bus services will be normal in Dhaka city, suburbs and on inter-district routes.
Khandkar Enayet Ullah, general Secretary of Dhaka Road Transport Owners Association, presided over the meeting.
About 300 transport owners and workers from different bus terminals in the city were present in the meeting.
The association has requested the concerned authorities to ensure security at all the important points in the city to avoid any hindrance in vehicular movement.