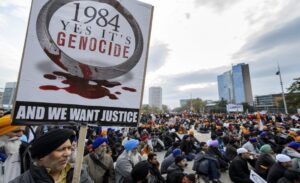 MOON Desk: The state Assembly of California, United States (US) on Monday passed a resolution urging the US Congress to recognize the 1984 anti-Sikh violence in India as genocide.Jasmeet Kaur Bains, the first-ever elected Sikh member of the Assembly, introduced the resolution on March 22.Fellow Assembly members Carlos Villapudua and Ash Kalra, the only Hindu member, also supported the resolution.
The burgeoning separatist Khalistan movement grew violent at the beginning of the 1980s with Sikh militants murdering government officials and citizens.
Then-Prime Minister Indira Gandhi ordered security forces to remove Jarnail Singh Bhindranwale—the leader of the Khalistan movement—from Amritsar's Golden Temple, the Sikhs' most sacred shrine.
In the operation, Bhindranwale was killed, following which Gandhi's Sikh bodyguards assassinated her, triggering nationwide violence against Sikhs.
The resolution stated that the Sikh community in the US was still reeling from the physical and psychological trauma of the riots.It is said that the Widow Colony in Delhi continues to house Sikh women who were assaulted, raped, and forced to watch their family members being burned alive and killed.Reportedly, the residents of the colony are still seeking justice.
Pritpal Singh, the coordinator of the American Sikh Caucus Committee and other Sikh groups in the US, thanked the California assembly for passing the resolution.The California State Senate passed a similar resolution in 2015 condemning the riots as genocide.It said that the Indian government and law enforcement officials "organized, participated in, and failed to intervene to prevent the killings of innocent Sikhs."
Notably, the 1984 riots continued for days, during which around 3,000 Sikhs were killed in Delhi. Some estimates say around 8,000-17,000 Sikhs were murdered in 40 cities across the country. Several Congress leaders, including Jagdish Tytler and Kamal Nath, were accused of encouraging rioters.