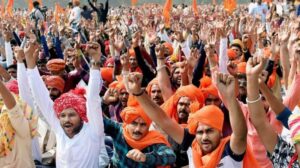 Moon Desk: An FIR has been registered against several unnamed persons taking part in a Karni Sena rally in Jaipur for making derogatory remarks against Prophet Muhammad (peace be upon him).
Karni Sena is an outfit promoting Hindutva ideology.
The matter came to light when some video clips surfaced on social media wherein a group of vehicle-borne persons holding saffron flags is seen shouting derogatory slogans against the Prophet (pbuh) and Muslims, reports reaching here said.
"Abdul tere baap ka naam, Jai Shri Ram" (Abdul, your father's name is 'Jai Shri Ram'). The same slogan was raised with the name of Prophet Muhammad (pbuh) used instead of Abdul. Some people have even put up a status on social media with the same slogan.
As the video surfaced on social media, Ikramuddin, a worker of All India Muslim Majlis Ittehadul Muslimeen, filed a complaint at the Vidhayakpur Police Station in Jaipur. On Tuesday, the police have registered an FIR under Sections 153-A, 298 and 504 of the Indian Penal Code (IPC), media reports said.
According to the FIR, the rally on Sunday in which the controversial slogans were raised was organised by the Karni Sena.
"The obnoxious slogans raised at the Karni Sena rally, as shown in the video, have hurt the sentiments of Indian Muslims as well as mine. Therefore, the people who were seen raising these slogans should be severely punished for their nefarious and disparaging behaviour. This is how peace and harmony will be established in society," stated the FIR.
The FIR also said that the raising of such demeaning and offensive slogans is a criminal act meant to disturb the harmonious atmosphere of the country. The accused should be given severe punishment so that others do not dare to emulate this act.
According to the FIR, the videos were uploaded on Instagram.
The controversial slogans were also raised by Hindutva leaders during an event in Madhya Pradesh some months ago. Those videos had gone viral causing communal tensions across the state. The police had registered an FIR in the case.
Now, the same pattern is being repeated in Rajasthan which has been witnessing hate speeches and anti-Muslim events in recent months. Such events are meticulously being planned by the Bharatiya Janata Party (BJP) to stoke communal feelings whereby it can consolidate the Hindu vote bank ahead of the upcoming assembly elections.