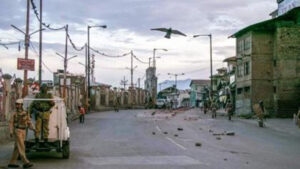 Moon Desk: A fresh controversy gripped India when cover page of a Central Board of Secondary Education (CBSE), Class 10 French textbook has shown IIOJK as not an integral part of India.
The Indian CBSE is considered as a well-established and well reputed institution in Indian education system. Its research and publication is also known as up to date for students.
The tweet from Legal Rights Observation (LRO – Legal Activism in National Interest) also confirmed the news published in acclaimed newspapers of India stating, "Hey@cbseindia29 is this true? Don't you recognize Jammu and Kashmir as integral part of India?" CBSE official tried to silence up the matter by saying that the cover was from an outdated edition of the French textbook.
The question is Jammu and Kashmir which was not part of India in 2014, how could it now be the part of the country? Factually, Jammu and Kashmir is a disputed territory as per UN resolutions.
It is pertinent to mention that The National Council of Educational Research and Training India (NCERT) has embarked upon a vigorous campaign to align the education curriculum for Indian students in line with nationalist agenda of present fascist government. NCERT is in process of security of Indian school syllabi and has dropped several topics from textbooks of Class 6 to 12 in an effort to rationalize the syllabus for academic session 2022-23.
The references to the 2022 Gujarat Riots, the Cold War and Mughal courts were skipped from Class 12 textbook to teach selective history to Indian students.
The process of validation of syllabus was started in December 2021 and completed in June 2022 with a team of subject experts. The news was covered by important Indian Newspapers like "India Today" and "Hindustan Times".