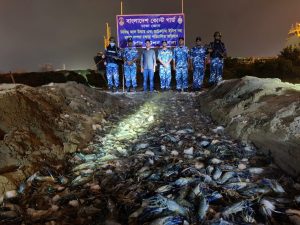 Moon Desk: Lieutenant Commander Khandaker Munif Taqi, the media officer of the Coast Guard Headquarters, gave this information at noon on Thursday.
He said, based on secret information, a special operation was conducted by Coast Guard Station Pagla at approximately 0300 hours on August 18, 2022 under the leadership of Station Commander Lt. Ruhan Manjur in the area adjacent to Dhaleswari Bridge under Keraniganj Upazila of the capital. Senior Upazila Fisheries Officer Salim Reza was present in the operation. During the operation, 03 passenger buses were searched from over Dhaleswari Bridge and 9,000 kg (225 maunds) of illegal jelly-pushed prawns, with an estimated market value of Taka 1 crore 08 lakh, were seized. At that time, it was not possible to arrest anyone as the real owner of the jelly-pushed shrimps in the bus could not be found.
He further said that later the seized jelly-pushed prawns were buried in the ground in the presence of the Senior Upazila Fisheries Officer.