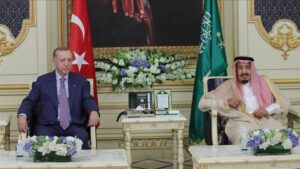 Last week, at least 41 workers lost their lives in Amasra district of northern Bartin province
MOON Desk: Condolences continued to pour in from leaders across the world over Friday's coal mine blast in northern Türkiye that killed at least 41 people.
According to the official Saudi news agency SPA, King Salman bin Abdulaziz and Crown Prince Mohammed bin Salman said in a joint statement: "We have received the news of the coal mine explosion occurred in Bartin State and the resulting deaths and injuries and we send to your Excellency and the families of the deceased as well as the people of Republic of Turkey (Türkiye) our sincere condolences and sympathy, wishing the injured a speedy recovery."
German President Frank-Walter Steinmeier also extended his condolences to the Turkish people and President Recep Tayyip Erdogan.
"Dear President Erdogan, I would like to express my heartfelt condolences to you and the Turkish people, also on behalf of my compatriots.
"Our thoughts are with the families of the victims. They have all our sympathy. I wish the injured a speedy recovery," he said, according to the German presidency.
At the time of the explosion in the Amasra district of northern Bartin province, 110 miners were working several hundred meters below ground.
The blast is one of the deadliest industrial disasters in the country's recent history. In May 2014, as many as 301 workers were killed at a coal mine in the Aegean province of Manisa.