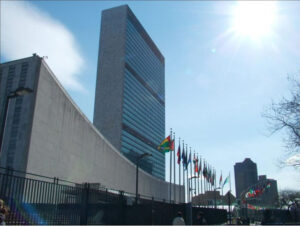 Md Nazrul: Pakistan joins the UN on Sep 30, 1947, just over a month after its independence. Pakistan is committed to a world in which upholding human dignity is the highest value and maintaining global peace a sacred duty.
Over the last 50 years, Pakistan has put this vision into practice by making significant contributions to the principle and purposes of the UN Charter, in particular the promotion and maintenance of international peace and security, especially through its contribution to UN Peacekeeping.
As one of the largest troop contributing country to the UN peacekeeping operations, Pakistan's commitment to international peace and security is well established. It deployed its first ever contingent in Congo in 1960.
Pakistan has since participated in 60 peacekeeping missions in 28 countries, with over 200,000 peacekeepers, some deployed in most difficult and trying conditions.
Pakistan has lost 170 personnel, including 26 officers, martyred during their efforts to restore peace and stability in some of the world's most turbulent regions.
Pakistan commitment and participation in the UN is across-the-board. It has actively participated in discussions at the UN on a host of issues including human rights, development, environment and climate change, and international law.
Pakistan is actively working the global community in the campaign against international terrorism. It has extended maximum cooperation and support to fight this scourge.
Pakistan considers arms control, disarmament and nonproliferation efforts as vital tools to promote the goals of peace and security at the global and regional levels. Accordingly, Pakistan has always advocated the need for inclusive forums for deliberations and negotiations, taking into account the security interests of all States.
As per its efforts to contribute to the global discourse on disarmament and non-proliferation, Pakistan presents four resolutions annually in the UN General Assembly.
These resolutions are aimed at reinforcing the global norms on conational arms control, regional disarmament, confidence building measures in the regional context and the continuing importance of providing Negative Security Assurances to non-nuclear weapon states.
Pakistan has been a leading voice for the reform of the Security Council to make it more democratic, inclusive and accountable through reform of its membership.
Pakistan is committed to the world in which upholding human dignity is the highest value and maintaining global peace a sacred duty. Pakistan envisages a world which is free of want, hunger and depression.