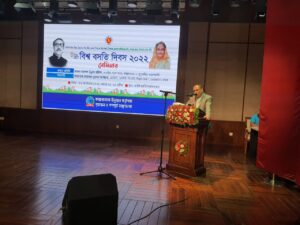 Cox`s Bazar Correspondent: Cox`s Bazar Development Authority hold a discussion meeting and colorful rally on the occasion of World Habitat Day-2022 on Monday.
Discussion meeting was held under the chairmanship of Cox`s Bazar Development Authority Chairman Commodore Mohammad Nurul Abshar, LGP, NDC, PSC BN (Retd) at CoxDA Multipurpose Hall Room while Ashek Ullah Rafique, Member of Parliament of Qutubdia – Maheshkhali constituency was the chief guest.
In the speech of the chief guest in the meeting, MP Ashek Ullah Rafiq said that Cox`s Bazar sea also consists of mountains. Here specific land use plan should be taken. Our people are becoming landless due to livelihood and climate change. Also, special lands are being taken for various big projects of the government. Big companies of the country are also buying land. Due to the implementation of the mega project in Cox`s Bazar, the land is constantly being used. Therefore, through the implementation of the master plan, settlement must be ensured for all. So that the next generation can enjoy its benefits.
He also said that Prime Minister Mujib has announced to ensure the housing of the landless in the year. In the President`s speech, Co-Chairman Commodore Muhammad Nurul Abshar (retd) said that the development authority has undertaken a master plan to make Cox`s Bazar a planned city. If it is implemented, housing for the landless will be possible. No land in Cox`s Bazar can be used unplanned. He also said that today is World Settlement Day. This day is celebrated across the country on the first Monday of October every year. The United Nations General Assembly decided to observe this day in 1985. This day has been celebrated since 1986 to raise awareness of ensuring safe and quality housing for all people around the world. This year also this day is being celebrated in Bangladesh like other countries. As a result Cox`s Bazar is one of the most vulnerable coastal cities in Bangladesh. The region can therefore effectively contribute to climate solutions by addressing challenges and validating local approaches. The city has the potential to contribute to the localization of the Sustainable Development Goals. Implementation is possible through green economy, fisheries and eco-tourism sectors in a sustainable manner. In this regard, Cox`s Bazar local government, especially Cox`s Bazar Development Authority can play an essential role to fulfill the objectives of World Habitat Day and ensure proper reflection. can observe Collaboration with local authorities can effectively address growing inequality, identify potential solutions to the climate crisis, and further localize the SDGs. Central Awami League`s religious affairs secretary Ed, Sirajul Mostafa, Cox`s Bazar Mayor Mujibur Rahman, Cox`s Bazar Press Club President Abu Taher Chowdhury, Public Works Directorate Executive Engineer Mohammad Shahjahan, various government and private officials and journalists from print and electronic media were present in the meeting.