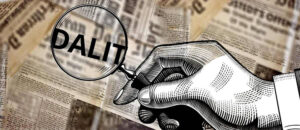 Qazi Mizan: Caste violence is one of the most dangerous forms of violence in India. Social reformer B.R. Ambedkar noted that Brahmins, or the upper caste Hindus, maintained the hierarchy by systematically excluding lower-caste Dalits.
The Dalit community makes up about 25% of India's population. Since Hindu nationalist BJP won power in India, lynching of minorities have surged. Article 15 of India's constitution prohibits discrimination based on religion.
Despite constitutional protections, Dalit community routinely faces prejudice and violence in India. Human rights groups are lobbying for creation of a specific hate crimes law, but none exists in India yet.
National Crimes Records Bureau revealed in its 2020 report, Uttar Pradesh has highest number of crimes against scheduled castes since 2013.
Across India, dozens of major incidents were reported, few of them are listed below: –
A class 10th Dalit student in Uttar Pradesh's Auraiya, Nikhil Dohre, who was beaten to death by his school teacher from an upper-caste Hindu community.
The case has sparked violent protests in India's northern Uttar Pradesh state.In Lakhimpur Kheri, two minor sisters belonging to Dalit community were abducted, raped and murdered.
Later, their bodies were found hanging from a tree. The mother of the girls said that her daughters were kidnapped by three bike-borne men on 14 Sep and were later found hanging from a tree in a cane field.
In Tamil Nadu's Tirupur village, a govt school headmistress disgraced Dalit student by passing Derogatory remarks and forced him to clean the toilets.
In Mirka village of Hisar district (Haryana), 3 youngsters belonging to scheduled castes were killed by upper class Hindus. Their family is protesting on their dead bodies to get justice.In Kotwali, some people entered a house and attacked a Dalit Family.
The women of the family were assaulted and molested.In Champawat district Uttarkhand, Upper caste Hindus have refused to eat their midday meals at government secondary school cooked by Dalit women Sunita Devi.In Indira Nagar, three staffers of Chinmaya Mission Hospital have coerced one of its housekeeping staffers Daivadeenam belonging to Mala caste to manually unclog sewerage on their premises. Upon his refusal, he was allegedly threatened with his job by top officials and forced to complete the task.