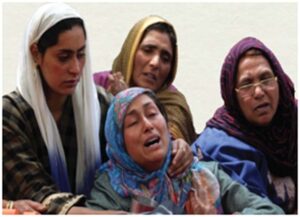 MOON Desk: The Kashmir valley, once considered a haven for women, has seen a steep rise in violence against women in the last few years. The survivors cannot turn to anyone with their grievances because there is no platform to hear women's complaints. After the abrogation of Article 370 in 2019, the Bharatiya Janata Party-led central government abolished the Commission for Protection of Women and Child Rights and six other commissions
Nadia husband beats her up with his belt and sometimes slaps her. Nadia got married in 2017 and has faced domestic violence daily. "I have two children; my father died a year ago. .As the months passed, Nadia's friends convinced her to complain about her husband's high-handedness and abuse. Ultimately, she did make up her mind to file a case at the State Commission for Women in Srinagar—but that was just before it was disbanded.
Nadia never complained to the police, believing, like many women in Kashmir, that it might give her a bad name. With the State Commission for Women gone, Nadia's hopes for justice also vanished. "I would complain against my husband at the police station, but hesitate due to the lack of women police officers," Nadia told this reporter.
The Kashmir valley has witnessed horrifying crimes against women in recent years. In March, Shabir Ahmed Wani, a carpenter, killed a 30-year-old woman in the Ompora locality of the Budgam district. The accused chopped her body into pieces and dumped them at different places in a macabre bid to escape detection.
In 2021, a study by BMC Women's Health, a journal dedicated to the health and well-being of women, analysed the prevalence of domestic violence in India between 2001 and 2018. It found Jammu and Kashmir among five states reporting a 160% increase in the reported crime rate under 'cruelty by husbands and relatives'.
The report also found a 53% increase in this category of crime over 18 years, indicating that the higher reporting of such crimes is not a blip but an established trend. The 2021 report showed that 11% of married women in the erstwhile state experienced physical or sexual violence, and the husband was typically the perpetrator. The 2015-16 and 2005-06 reports showed the percentage was 12% and 13%, respectively.
In the National Family Health Survey Report 2015-16, 57.5% of women aged 15-19 in Jammu and Kashmir said a husband was justified in hitting his wife for reasons like disrespecting her in-laws (44%), arguing with him (38%), for neglecting the household and children (37%) or if he suspected her of being unfaithful (25%).