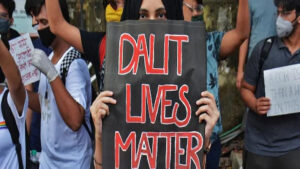 Md Jubair: Dalit organizations have staged a protest in Chitradurga, Karnataka. They are demanding immediate arrest of Shivamurthy Murugha Sharanaru, booked under the POCSO Act for alleged sexual abuse of high school girls.
The protesters raised slogans demanding justice and called the seer, a "sexual abuser". District President of 'Dalita Horata Sameeti', Ravi said, "If some common man is accused in a rape case, police wouldn't have let him out even for a single day, but because this Swamiji is influential, he has still not been arrested. He should have been arrested immediately. No action is being taken against him, he is not even being questioned." He added, "As (one of) the victim(s) is a Dalit, an atrocity case has also been booked. If he is not arrested immediately, Dalit organizations will stage protests across the state."
Meanwhile, the two girls appeared before a local court to record their statements.
They appeared before the Second JMFC Court, along with some authorities amid security, and their statements were recorded under Cr PC 164.
Karnataka BJP MLC H Vishwanath slammed the Karnataka Home Minister Araga Jnanendra, saying that if he has any shame, he should take action against the seer. "I will write a detailed letter with all inputs to Prime Minister Modi seeking protection of minor girls."
He added, "Nobody is opening mouth on the issue. Everything is being viewed politically. Parties fear losing votes if they speak on it. Everything is vote bank politics. For sake of votes, you're supporting someone who is accused of raping minor girls?"