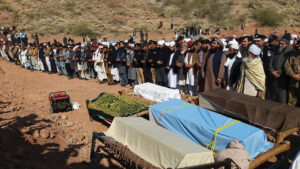 Moon Desk: The death toll from a boating accident in Pakistan over the weekend jumped to 51, police said Tuesday, after a vessel overloaded with children capsized in the water.
Rescuers spent three days diving in freezing waters to recover the drowned bodies of 49 madrassa students, aged seven to 14 years, as well as one teacher and one skipper.
"The water of the dam was freezing due to cold weather that impeded the rescue mission. But today the divers were able to dive deep to recover the remaining bodies," said Khateer Ahmad, a senior official of the Rescue 1122 service.
"More than 25 divers took part in the rescue mission that includes the divers from the army."
Soon after the accident on Sunday in Tanda Dam lake, near Kohat in Khyber Pakhtunkhwa province, the death toll was put at 10.
"The boat was overloaded; its capacity was around 20 to 25 persons," said local police spokesperson Fazal Naeem, who issued the new toll that was confirmed by the military's media wing.
He told AFP that five people were rescued, including four students and one teacher.
Drownings are common in Pakistan, when aged and overloaded vessels lose their stability and pitch passengers into the water.