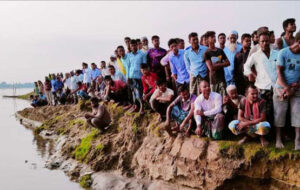 Moon Desk : The death toll from Sunday`s boat capsize in Karatoya River in Boda upazila of Panchagarh district has risen to 42.
Divers team of Panchagarh Fire Service and Civil Defence recovered the nine bodies from different places of the district this morning, while the rest eight were recovered from Birganj`s Atrai river and Kotwali`s Kanchan river in Dinajpur district.
More than 50 people are still missing.
Relatives of the missing people are waiting eagerly in front of the control room. They submitted a list of 66 persons who are missing.
Of the 34 bodies, 18 were women, 11 were children and five were men, said Panchagarh deputy commissioner Md Johurul Islam.
An engine-run trawler carrying more than 100 passengers sank in the middle of the river while heading towards Badheshwar temple on the occasion of Mayalaya from Auliar ghat around 2:30 pm on Sunday.
The district administration has given Taka 20,000 each deceased family and Taka 10,000 each injured person, Deputy Commissioner (DC) Zahurul Islam said.
Zahurul Islam also said they formed a five-member committee to investigate into the incident and asked to submit its report by three working days.
The bodies of those identified have been handed over to their relatives, DC added.