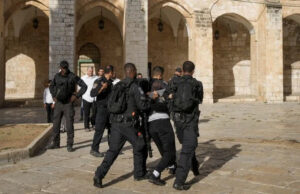 Israeli police detain a Palestinian man as they escort a group of Jewish settlers inside the Al-Aqsa Mosque compound in the Old City of Jerusalem, Tuesday, Sept. 27, 2022.
Moon Desk: The Arab League and Egypt have condemned the storming of Al-Aqsa Mosque by Israeli forces and several settlers, holding the Israeli government responsible for igniting the situation.
Tension increased at the compound on Monday with incursions into the area by hundreds of Jewish settlers, under the protection of Israeli police, to mark the start of Rosh Hashanah.
Extremist Jewish groups continued calls to be allowed to enter the compound on Monday and Tuesday to celebrate the Jewish New Year.
A statement from the Arab League said Israeli forces and settlers stormed Al-Aqsa and arrested several Palestinians stationed inside it, to impose a temporal and spatial partition on the mosque, "which means changing the existing historical and legal situation."
This continued policy on the part of the Israeli government, it said, is a "flagrant violation of international law" and a provocation for Palestinians and Muslims in general.
Ahmed Aboul Gheit, secretary-general of the Arab League, stressed that what happened was and "unacceptable crime," and called on the international community to assume its responsibilities and confront the "dangerous Israeli escalation."
He tweeted: "East Jerusalem is occupied land in accordance with international law and United Nations and Security Council resolutions, and it should not be treated as otherwise."
Egypt's Foreign Ministry said in a statement that the continuation of provocative practices in the vicinity of the Islamic holy sites in Al-Haram Al-Sharif area would heighten tensions and fuel violence.
It said Egypt condemns the repeated, escalating violations of the sanctity of Al-Aqsa Mosque, "carried out by Jewish extremist elements in full view of the Israeli occupation forces."
It stressed that restrictions on the movement of Palestinian worshipers and their performance of religious rites, and the continuous attempts to change the legal and historical status of Jerusalem, remain a violation of international law and a dangerous escalation that undermines the chances of achieving a comprehensive settlement of the Palestinian cause and the two-state solution.
Adnan Al-Husayni, head of the Palestine Liberation Organization's Jerusalem department, blamed the Israeli government for any repercussions caused by the escalation.
Al-Husayni called on the Arab and Islamic worlds to take a serious stand in support of the Palestinian people in confronting the aggression of the Israeli occupation.