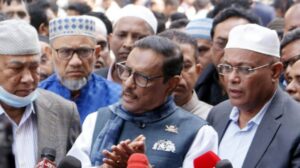 MOON Desk: Awami League General Secretary Obaidul Quader has that he did not make any remark about Hero Alam but gave reply to the remarks of BNP secretary general Mirza Fakhrul Islam Alamgir.
Quader told reporters at AL's central office at Bangabandhu Avenue in Dhaka on Monday.
In response to a question about Hero Alam's challenge to him, the AL general secretary said, "I didn't say anything about him (Hero Alam). I gave reply to Mirza Fakhrul's comment."
"He (Hero Alam) participated in the by-election as a representative of marginalized people, and secured a good numbers of votes. I have no comment about him."
"What I have said is about Mirza Fakhrul's remarks," added Quader.
On February 4, BNP Secretary General Mirza Fakhrul in a rally at its at its Nayapaltan central office premises said Hero Alam has really become a hero, because the ruling Awami League has also become helpless to him. Using the state machinery, the government defeated Hero Alam in the by-election.
"Their (Awami League) candidate won the by-election by a margin of only 800 votes against Hero Alam. Being defeated by such a less number of votes, Hero Alam raised ballot rigging allegation against the ruling party candidate in the by-election," Fakhrul said.
On the same day, Quader in a rally at Kamrangirchar 31-Bed Government Hospital ground said that "BNP influenced Hero Alam to take part in the by-election. Mirza Fakhrul thought that Hero Alam would win the by-polls. But, Hero Alam has now become a zero. BNP made Hero Alam a candidate to humiliate parliament. Mirza Fakhrul's dream has finally shattered."