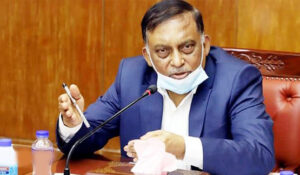 Moon Desk: Urging BNP leaders and activists not to carry staff (bamboo poles) in their programmes, Home Minister Asaduzzaman Khan Kamal asked them to do political programmes in an orderly manner in accordance with the law.
He made the remark while talking to media at the Secretariat in Dhaka on Sunday.
In response to a question, the Home Minister said, "If they block the road or vandalise and cause miseries to the people, then do we have anything to do…Law enforcement agencies will take position at their rally venues and keen an eye on them so that they could not indulge in vandalism or any other destructive activities."
He further said, "BNP leaders and workers were directed to bring bamboo poles. We didn't know what it indicated and we don't know anything about. We have noticed that in different places of Dhaka city they have come waving their party flags on bamboo poles. You know what these things mean."
If BNP runs its political activities in a peaceful way then we have nothing to say but carrying bamboo poles is not legal, said Asaduzzaman.
He said, "I would tell everyone to use decent language and words. Don't say anything to someone which may triggers clash or confrontation. What have taken place between our two parties from such slogans or some kind of altercation, are taking place as far as we have heard."
Why would the workers of BNP take position at rally venue at night, questioned the minister.
The Home Minister urged all political parties to abide by the law and continue their activities in an orderly manner.