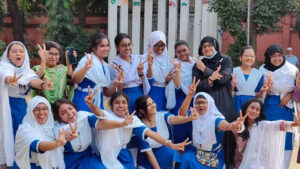 Staff Correspondent: This year`s Secondary School Certificate (SSC) and its equivalent examinations results published on Monday.
The pass rate of nine general education boards, madrasas and technical education boards is 87.44 per cent. Last year, 93.58 per cent students had passed the SSC and equivalent examinations.
A total of 42,225 students secured GPA 5 in this year`s SSC exams.
The results were disclosed after Education Minister Dr Dipu Moni handed over the summary and statistics of the results to Prime Minister Sheikh Hasina at 12pm.
The students can now check their scores at their school premises, on the website of Education Board and via text message services.
Mymensingh board pass rate 89.02 per cent, Rajshahi board 85.88 per cent, Cumilla 91.28 per cent.
This year, more than 20 lakh students took part in SSC exams under 11 boards, including madrasa (Dakhil) and Technical Education.
Of them, 15.99 lakh were from nine general education boards, 2.68 under the Madrasa Education Board, and 1.53 lakh under Technical Education Board. SSC and equivalent examinations began across the country on September 15.
Meanwhile, Jashore Education Board has secured the top position among 11 education boards with 95.3 percent pass rate in the SSC and equivalent examinations this year, according to the results published on Monday.
Sylhet Education Board witnessed lowest pass rate as 78.82 percent examinees in the board have become successful this year, reports BSS.
The pass rate of Dhaka Board is 90.03 percent, while it is 85.88 percent in Rajshahi Board, 91.28 percent in Cumilla Board, 89.61 percent in Barishal Board, 89.02 percent in Mymensingh Board, 81.16 percent in Dinajpur Board, 87.53 percent in Chattogram Board, 78.82 percent in Sylhet Board, 82.22 percent in Madrasah Board and 89.55 percent in Technical Education Board.