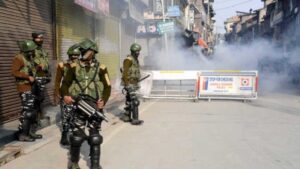 Noon Desk: All Parties Hurriyat Conference (APHC) leaders, Advocate Devinder Singh Behl, have said that durable peace in South Asia is not possible without settlement of the Kashmir dispute in accordance with the relevant UN resolutions and Kashmiris' aspirations.
According to Kashmir Media Service, Devinder Singh Behl in a statement issued in Jammu said Jammu and Kashmir is an internationally recognized disputed territory which is illegally occupied by India. He said India has turned IIOJK into the world's largest prison by deploying more than a million army and paramilitary personnel in the territory.
He deplored that India was punishing the Hurriyat leaders by implicating them in baseless and false cases. He strongly condemned the plea filed by India's notorious National Investigation Agency (NIA) seeking conversion of the life imprisonment of Kashmiri leader Yasin Malik to death penalty. He said that an NIA court had already sentenced Yasin Malik to life imprisonment.
Devinder Singh Behl said that according to the UN Charter, the struggle of Kashmiris is legitimate and they will never allow their sacrifices rendered for the right to self-determination to go in vain. He appealed to the UN to force India to settle the Kashmir dispute without any further delay.
Meanwhile, illegally detained APHC leader, Noor Muhammad Fayyaz, in a message from Naini Central Jail in Uttar Pradesh expressed serious concern over the worsening political and human rights situation in the occupied territory.
He condemned the increasing cordon and search operations, subjecting of the Kashmiri people to fear and terror and confiscation of the people's property by the Indian forces in the territory. He said the Modi regime is using black laws to suppress the Kashmiris' just struggle for right to self-determination.
The APHC leader said Kashmiris are being punished for demanding their birthright to self-determination. He said the oppressed Kashmiri people are waiting for the help of the international community, so it should play its due role in resolution of the lingering Kashmir dispute for permanent peace in South Asia.