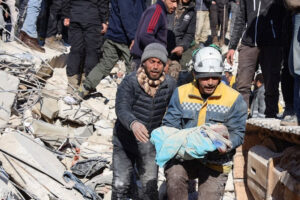 MOON Desk: Three days after two massive earthquakes struck northwestern Syria and southeastern Turkiye in the early hours of Feb. 6, the US Treasury announced a 180-day exemption from sanctions on "all transactions related to earthquake relief efforts" sent to Syria by overseas donors.
The decision reopened the debate over whether the US should take action to lift sanctions imposed on the regime of President Bashar Assad in response to allegations that it committed horrific war crimes, to allow the country to begin to recover from more than a decade of destruction and displacement.
Syrian economic adviser Humam Al-Jazaeri described the Treasury's move as a "bold signal to (the) international community — individual countries and organizations — to provide tangible help and assistance" in the wake of the earthquakes.
"This is evident in the growing number of countries coming forward, which have probably found it difficult otherwise," Al-Jazaeri told Arab News.
US sanctions were first imposed on Syria in 1979, when Washington designated it a "state sponsor of terrorism."
The restrictions were further tightened during the Iraq war in 2004, and several more times since the civil war in Syria began in 2011. The Caesar Act, introduced in 2019 to penalize Assad's financial and political backers abroad, brought about the most severe constraints.