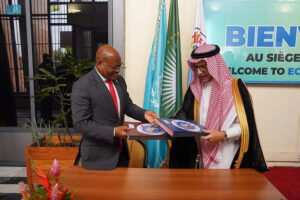 Moon Desk: The Commission of Economic Community of Central African States (ECCAS) affirmed its support for Saudi Arabia's bid to host Expo 2030 in Riyadh.
The statement issued on Tuesday by ECCAS comes after the president of the commission, Gilberto Da Piedade Verissimo, received Ahmed bin Abdulaziz Qattan, Saudi Arabia's Royal Court Advisor, in Gabon.
According to the statement, which was released following the meeting, ECCAS affirmed its "strong support for the Kingdom of Saudi Arabia's hosting the 'First Saudi-African Summit' and the 'Fifth Arab-African Summit' in Riyadh".
During the meeting, Qattan and Verissimo discussed ways of cooperation between Saudi and the ECCAS, opportunities to enhance economic and investment cooperation, and joint coordination in areas of common interest.
The Gabonese foreign minister, Michael Moussa Adamo, also attended the meeting.
Advisor Qattan expressed Saudi Arabia's appreciation for the support received, which reflects the distinguished relations between the Kingdom and ECCAS's state members.