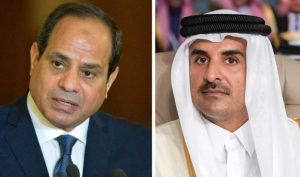 Moon Desk: Qatar's Emir Sheikh Tamim bin Hamad Al-Thani and Egypt's President Abdel Fattah El-Sisi discussed the latest regional developments, particularly the situation in the Gaza Strip, where Cairo brokered a truce that ended last week's fighting between Israel and Islamic Jihad.
During the phone call, Sheikh Tamim and El-Sisi also discussed measures to strengthen bilateral ties.
The emir expressed his gratitude for Egypt's efforts to strengthen regional peace and security.