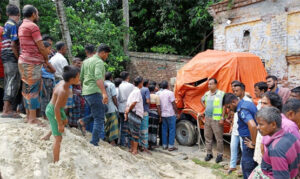 Moon Desk : An elderly couple has been found dead in a locked house at Puratan Bazarpara area in Alamdanga municipality of Chuadanga.
The two dead bodies were recovered from there around 11:30am on Saturday.
The deceased were identified as Najir Uddin, 70 and his wife Farida Khatun, 60.
Police said, the couple had not been receiving their phone since Friday. Later, their son-in-law Ahidul and other members of the family came to their house and found the house locked from inside. Being informed, members of the police and fire Service recovered the bodies of the couple with their hands and legs tied up after breaking the door.
Saiful Islam, Officer-in-charge of Alamdanga Police Station, said a small scissor was found beside the bodies. There were several injury marks found on the woman's body. Police Bureau of Investigation and Criminal Investigation Department were informed about the matter.