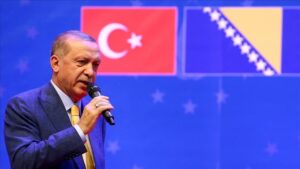 Turkish President Recep Tayyip Erdogan's scheduled visit to Bosnia Herzegovina on Tuesday aims to boost economic relations, said Türkiye's Foreign Economic Relations Board (DEIK).
Moon Desk: "Türkiye and Bosnia and Herzegovina are set to expand their joint trade volume to $1 billion," said Chairman Hasan Topaloglu.
Erdogan is set to visit the capitals of Bosnia-Herzegovina, Serbia, and Croatia in a three-day mini Balkan tour starting on Tuesday.
During his visit to the Balkan countries, Erdogan is expected to reaffirm Ankara's commitment to peace and stability in the region.
"These business forums, held at regular intervals, bring together successful and important business people from the two countries, and also contribute to the investment potential of these business people in the country and to establish cooperation.
"Bosnia Herzegovina may be a small country with a population of 3.5 million but it has a great impact on Europe. It is an attractive country for Turkish investors with its proximity to important trade corridors and the convenience it offers at the point of trade with EU countries," said Topaloglu.
He added that the free trade agreement with Bosnia and Herzegovina plays an important role to reach the targeted trade volume.
"The first Free Trade Agreement between the two countries was signed and entered into force in 2003. In parallel with our political relations, our economic and commercial relations have also made significant progress and growth in the last 20 years.
"The Free Trade Agreement between the two countries was updated in 2019, with new topics. It has been enriched and entered into force as of 2021. Our trade volume, which was at the level of $70 million in 2003, has increased to $845 million by 2021. The officials of both countries hope that this figure will be increased to $1 billion as soon as possible," Topaloglu noted.
Business forums are planned in Sarajevo, Belgrade, and Zagreb with DEIK's cooperation.
In recent years, the Balkan region has become an attractive market for Turkish investors with its qualified workforce and business-friendly investment environment, as well as tax and financial incentives.
The region is often described as Türkiye's gateway to the EU, thanks to its geographical location.