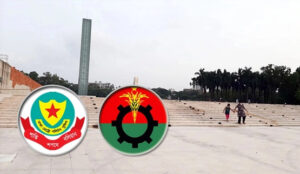 Moon Desk: Dhaka Metropolitan Police has allowed BNP to hold its December 10 Dhaka divisional mass rally at Suhrawardy Udyan in the capital on 26 conditions.
The party can hold the rally from 12 pm to 4 pm on the day, DMP said in a statement on Tuesday.
But BNP is firmed to arrange the program in front of its Nayapaltan central office and for this, it sought permission from DMP on November 20.
DMP, however, today said holding the rally at Nayapaltan may cause traffic jams and public suffering, for this reason, it permitted the party to organize it at Suhrawardy Udyan on 26 conditions.
The conditions include keeping all activities of the rally limited to Suhrawardy Udyan, installing CCTVs of improved resolution in and out of the venue, searching all vehicles at the rally through scanners in own management, and not using mike outside and adjacent areas of the program place.
BNP had announced to hold its Dhaka divisional mass rally on December 10 as part of its rallies in divisional cities seeking the party chief Khaleda Zia`s unconditional release, election-time non-party impartial government, and protesting fuel prices hike, deaths, of leaders and activists by police, attack and false cases against them.