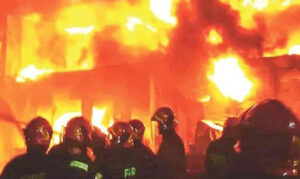 Moon Desk: Fire has broken out at Bat Tala Bazar Bustee in Hazaribagh of the capital.
The fire broke out at about 6:15pm on Wednesday (August 31). Ten fire fighting units are now working to douse the inferno.
Fire Service and Civil Defence officer (Media Cell) Shahjahan Sikder confirmed the matter.
He said two fire fighting units went to the spot first. Then eight more fire fighting units joined those to bring the fire under control. It could not be known how the fire was originated.