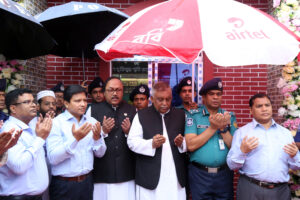 Rajshahi Bureau: Home Minister Asaduzzaman Khan Kamal has said the firing at the Bangladesh-Myanmar border will be stopped soon.
He said this while inaugurating the Police Liberation War Memorial Museum in Rajshahi on Tuesday morning.
He said, Border Guard Bangladesh (BGB) presence has been strengthened on Myanmar border, the foreign ministry has protested against firing there.
The Home Minister also spoke about the recent attack on journalists in Rajshahi.
Those who were involved in the attack on the journalists in Rajshahi will be brought under the law, he said.
Rajshahi City Corporation (RCC) Mayor A H M Khairuzzaman Liton was present among others during the inauguration ceremony. Later, the Home Minister attended an anti-drug and anti-terrorism rally at 11:30am.
On 3 September, two mortar shells fired from Myanmar fell inside Bangladesh between border post 40 and 41. Bangladesh expressed deep concern over the mortar shells and indiscriminate aerial firing in the bordering areas, and air space violations from Myanmar.